My latest trip to the south rewarded me with another unforgettable find. I guess getting lost sometimes has its benefits. Two of my friends who are new to long distance riding, asked me to plan for a ride going south. I told them we could go to Taal and visit Taal Church and other old, spanish style houses there...but we got lost.
We left Novaliches exactly 6am and got to Tagaytay at 8am.
We filled our bikes with petrol before proceeding to McDonald's for breakfast. I wonder why the food at McDonald's Tagaytay taste better than the ones in Manila...maybe its the elevation or perhaps the cool crisp air altering our taste buds. Even our smile looks better.
After that hearty meal, we proceeded to Taal via Talisay.
I thought its easier to get to Taal Church thru Talisay but I was wrong.
We asked the locals for direction and everyone told us the same thing, head back to Tagaytay and take the Lemery route. We took their advice...
... but not after taking some photos for our facebook page.
So we headed back to Tagaytay going to Lemery. We didn't ask for directions anymore, We just relied on my pigeon like navigational skill.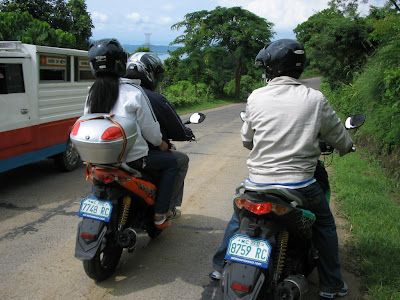 ...should we ask for direction?


Needless to say, We got lost again.
We found ourselves taking pictures under a sign that says "Municipality of Calatagan". I told them that since we're here in Calatagan already, We could just have lunch at Matabungkay and visit an old lighthouse in the area. Of course, that didn't happen.
...lost but happy.
We continued riding trying to find the way to the old lighthouse, eventually we ran out of road. We found ourselves at the gate of
Ronco Beach Resort
.
What's nice about Ronco is how serene the place is. Time seems to stand still. A really nice place to just kick back and relax. We had our lunch here, their Bulalo is quite good. Sho joked that the meat used on their bulalo are previous guests who couldn't pay the bill. We had a little chat with the owner of the resort. He told us that there's an issue on the right of way going to the lighthouse. Maybe that's why we couldn't find it. Well, at least we found Ronco. We plan to come back here soon but it'll be an over-nighter next time.